I took Thursday and Friday of last week off of work. It was a two pronged "vacation". Hunt every second possible and then in between those seconds...help the wife prepare for our son's first birthday party. Our early archery season ended on Saturday the 15th which was the day we had scheduled for the boy's b-day party, so I knew thursday and friday would be my last two days to bow hunt.
When i first saw this buck at about 50 yds I didn't think i would shoot him....for one thing i couldn't tell if he had the requisite 3 points on one side. as he closed the distance i recognized him as a deer i saw on Saturday the 8th. that deer had a seriously bad attitude and left a doe to go pick a fight with another buck...bristled up, ears back and that stiff legged walk. the impression i got on that night was that he was runty racked 3 yr old bully of a buck.
Back to thursday morning...this buck was following a doe that had just run under me at about 7 yds. He was about 80 yds out and grunting as he followed the doe's trail. He popped out of the golden rod field and hit the entry of my hinge cut trail that leads into my plot....like he read the script! As he passed by at 16 yds broadside I decided to shoot him if he had a third point on either side to make him legal according to PA's APR's. As he entered the plot at 18 yds i saw the right side brow tine and came to full draw. he saw the doe and began to trot towards her. I grunted and he stopped after about 3 more steps as i swung the bow to the right to get on him my release hand elbow hit my tree and it caused my finger to tap my release trigger....the arrow launched and hit him square in the hind quarter....i was in utter shock and disbelief as the deer ran straight to the base of my tree and bumped off my climbing stick before coming to a stop about 8 yds below me. I had managed to grab a second arrow and get it knocked in this time. I could see blood squirting out of his right hind quarter as i came to full draw on him again. He looked up at me and made a short run out to 26 yds where he stopped and turned broad side...slightly quartering away. Again i saw the blood spurting from the hind end as I settled the pin and launched arrow number 2 into him. this arrow found its mark and he had a tough time making it another 35 yds as he stood at the crest of the hill and wobbled as he took two more steps and disappeared down the hill.
I knew that I had connected on the femoral artery on that first errant shot due to the high volume of blood spurting from his hind end..and the second shot was definitely at least liver/lung based on the quartering angle. I knew he probably was dead just a few yards from where i last saw him. But i stayed put for a about 30 mins. i could actually follow his blood trail with my eyes from the tree for about the first 30 yds. I texted my wife and few friends. I knew i was going to need help since he went down the hill...there is an impassable creek at the bottom so I was going to have to get him back up the hill.
Thursday, November 13th 8:39AM.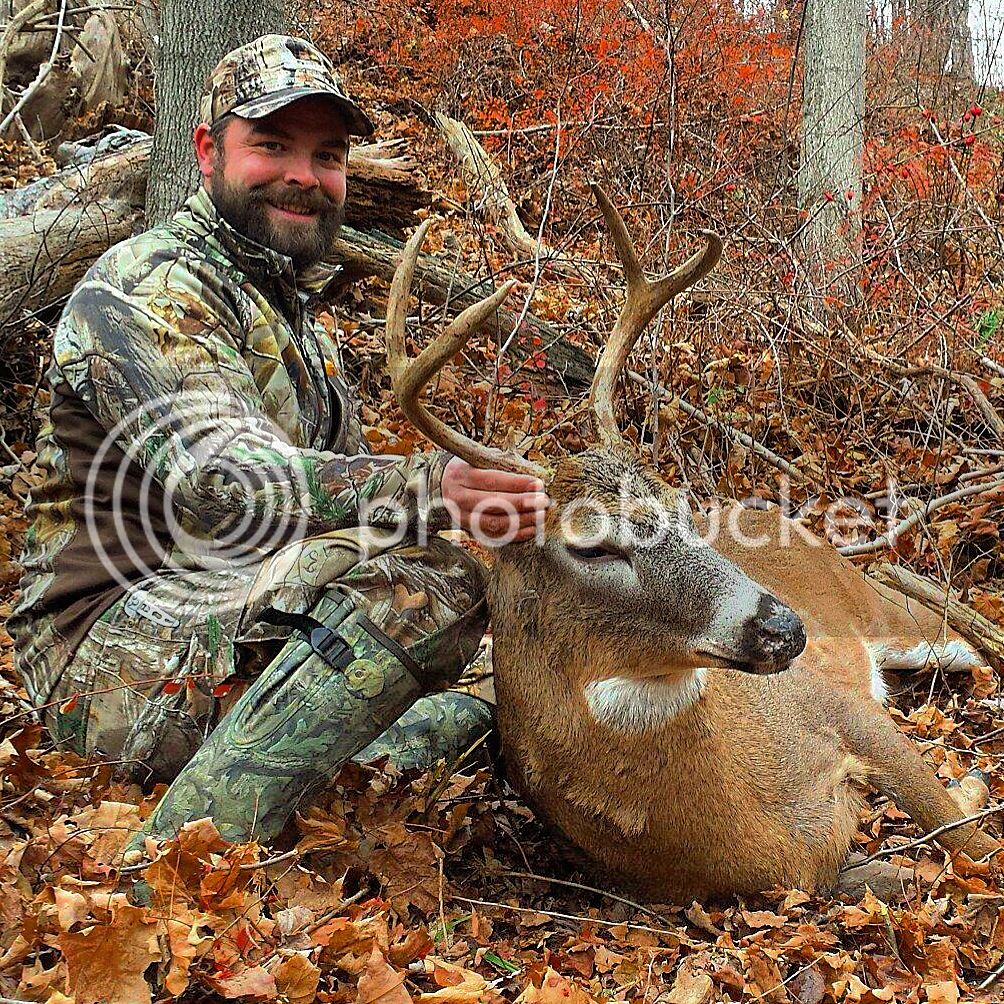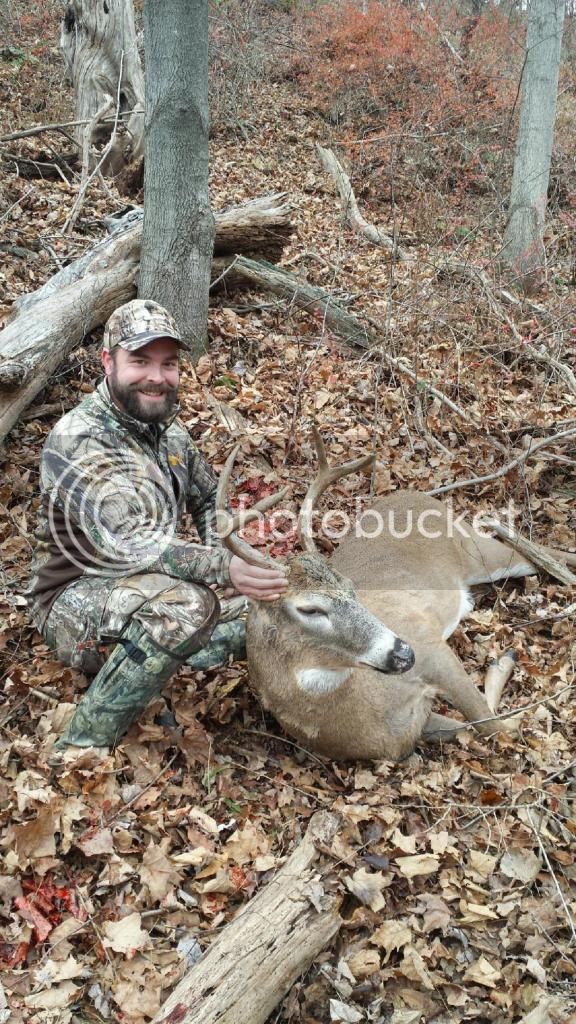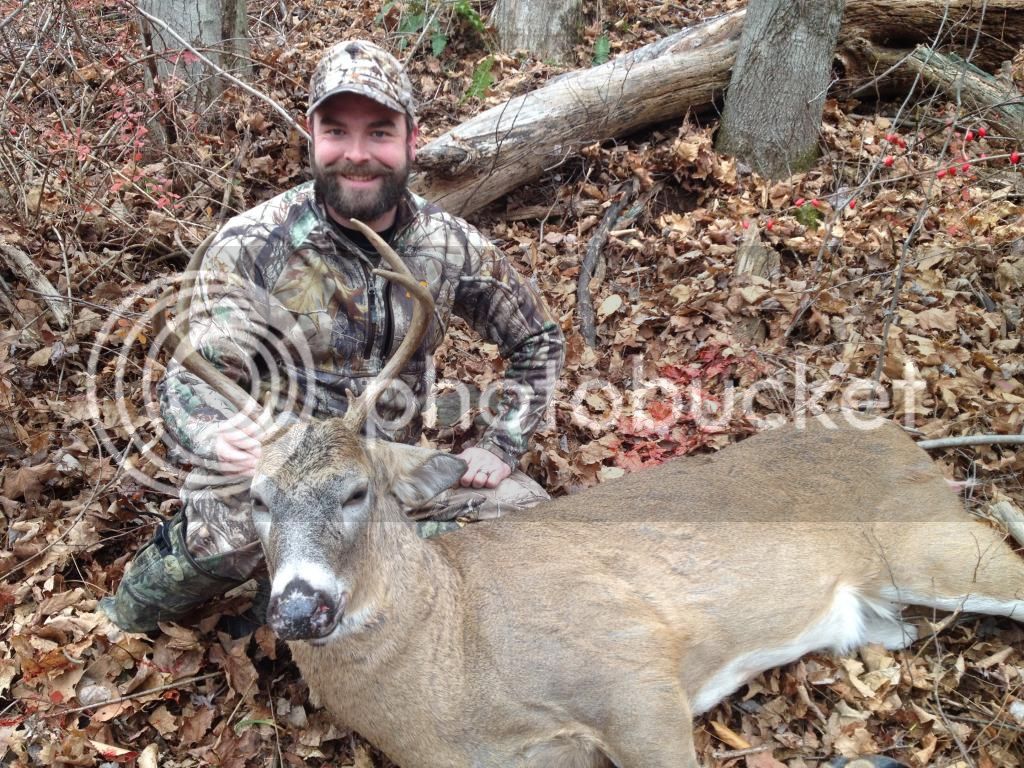 here he is the day before I shot him. He is either a big bodied 2 yr old with better than average mass than most of our 2 yr olds or he is a runty racked 3 yr old. he dressed 162 lbs...which is about 15-20 lbs more that most other 2 yr olds that i have shot. I'm thrilled either way! It was an exciting hunt! i will be getting the lower jaw of the head in the next couple of days so that should tell the tale on age.
My little guy was excited to see his first "whole" Bucky! He has only ever seen shoulder mounts...which he loves to look at and "pet" them.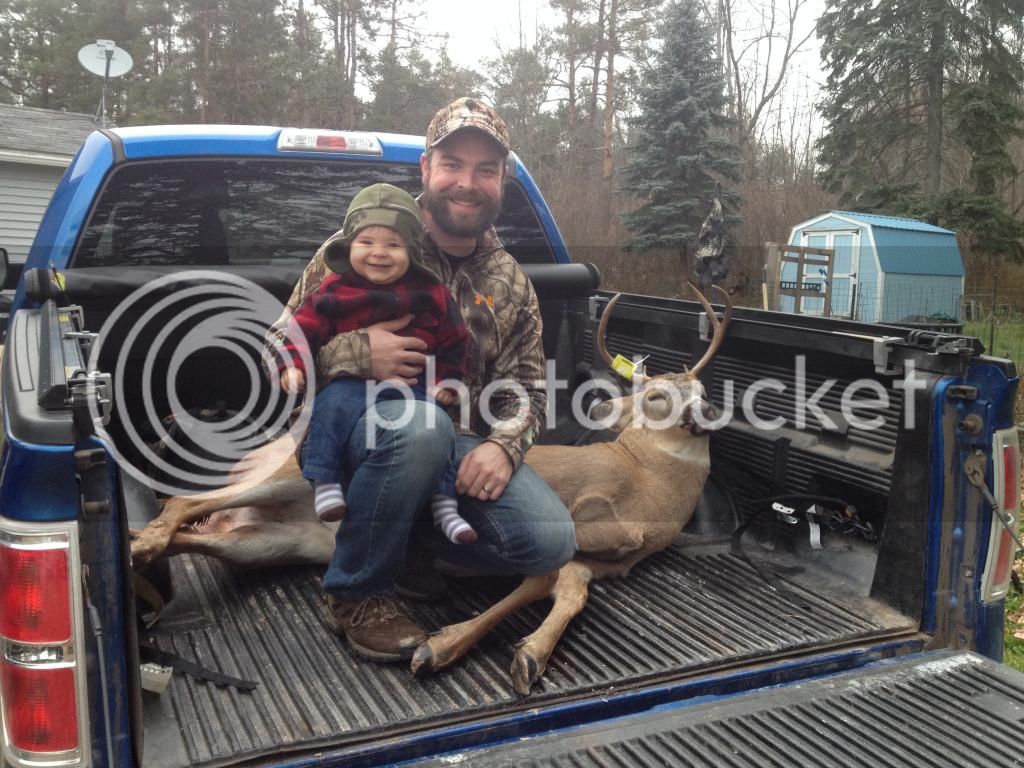 Last edited: