Has anybody else seen this before and know the cause?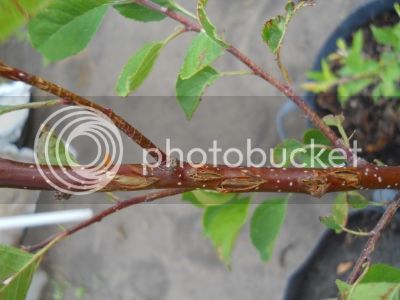 I have noticed this on a few of my trees in my nursery. My thinking is that it is environmental damage, maybe hail (which we havent had much of THANKFULLY) and or high winds which we have had a lot of. We have been abnormally wet the last few weeks as well, wondering if my trees arent growing too fast. However the damage doesnt appear on the most recent growth, but on growth that was earlier in the growing season. Doesnt appear to be hurting the trees at this point, but obviously in the long run I see room for bug and disease issues.
I also noticed some splits in my B118 rootstocks. Like someone has taken a knife and scored the bark, not open splits like the ones pictured. First year growing on B118 ..... so maybe that is normal??
Thanks